Salomon Speedcross 3 Review – It'll Conquer Any Trail, But What About Mud Runs?
As an experienced avid hiker and mud run participant, I have been making a terrible mistake for the longest time in not using good trail running sneakers but have been very, very lucky that I have avoided injuries thus far (yeah not something an experienced "hiker" should do). 
I decided to get myself one of the more popular ones, the Salomon Speedcross 3 and test it. How different could it possibly be from the usual ones I wore?
Turns out, not only was it different, but it gave me a whole new look at how much safer and fun trail runs can be (and mud runs). Though I bought these sneakers not too long ago and haven't tested them on an official mud run yet (most likely it'll be the Spartan Race!), I wore them on a difficult hike and tested them not just against the toughest trails, but also purposely put myself into conditions that reflect a traditional mud run.

New update: Just finished the Spartan Beast using the SAME pair I used for Tough Mudder. They worked AWESOME. Read about it below.
In this review, I'm going to show the parts of this sneaker, how they are important for hikes and, where I ran through with the Salomon SpeedCross 3 in addition to explaining how to maintain it's longevity if you use it.
And since I already did a difficult mud run with them, below I will explain exactly how I felt wearing them, if they got me through the race, if I could use them again and more! Images will be provided for proof.
First impressions when I got the shoes: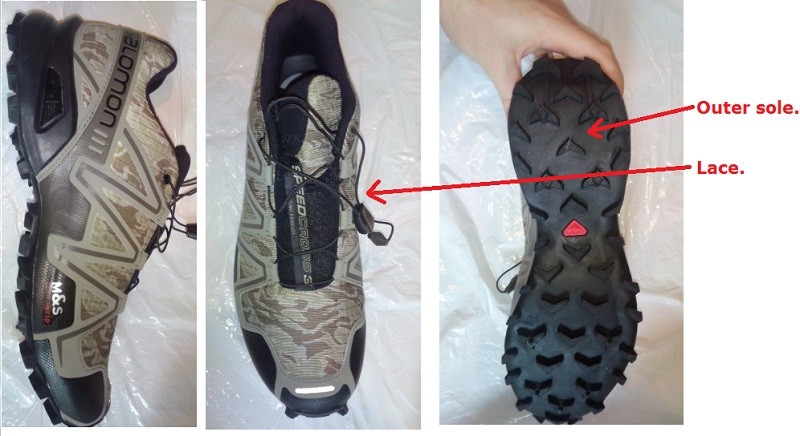 How it looks: I think it looks awesome. In fact, when I did my hike, I did receive a compliment from a fellow hiker on them. There are many different colors and versions of it for men and women.
There are no shoelaces on these kinds of models, only kevlar. I suggest you put the lace behind the tongue of the sneaker when you're jogging. Tightening and loosening the laces is easy.
I was surprised by the immediate comfort. Usually there is some kind of "break in" period to wearing sneakers but I did not have that with the Salomon. Putting these sneakers on the first time felt like my feet were stepping on some kind of memory foam mattress in that it felt so natural and comfortable.
The outer sole and mid sole had many bumps on them (I don't know what the name of this part of the shoe is), but they are made for traction which played an important role later when I began hiking with them.
What I put my Salmon sneakers through!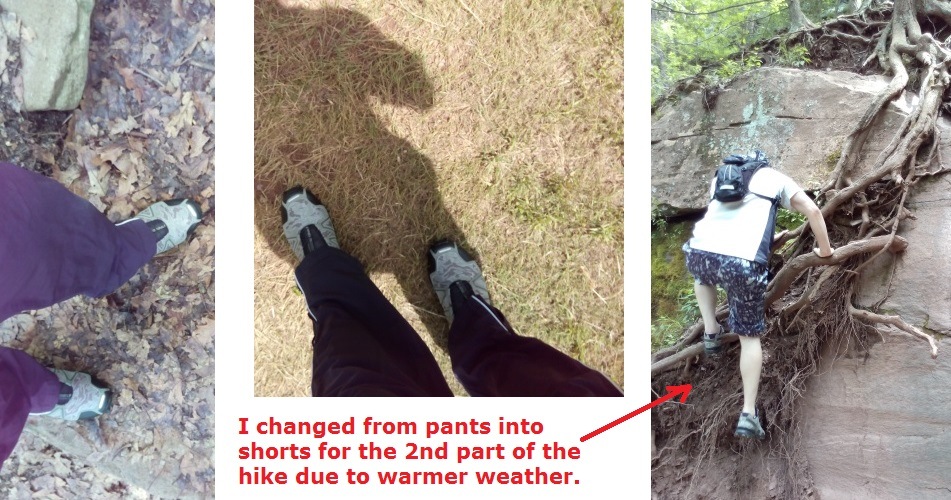 The hike I took consisted of 2 stages:
Hiking up a 2,000 foot mountain to reach an outlook. Then driving up to the next hike which was up a large waterfall (over 150 feet high). Total distance of the hike was about 3 miles, but obviously in up and down elevations.  
This hike had many traction testing elements such as:
Grass.

Wet, slippery grass.

Gravel in different varieties.

Dry and wet dirt, sometimes about an inch deep.

Dry and wet leaves over dirt.

Steep climbs up branches of trees. 

Hopping in between large rocks.

Going through wet, slippery rocks. 
All of those challenges are in a mud run too and on them, some people choose to time themselves so throughout this hike, I was also timing myself to see how fast and comfortably I could jog through many of the obstacles the hike had. 
I was jogging up and down the slippery leaves. 

I was jogging through the grass, no matter if was dry or wet.

I was jogging through the dirt areas and gravel.

Many times the ground was mixed in these things and had large rocks which required me to hop on and over.

I had times where I would hop of a rock to reach another to make it look like a wall jump obstacle. 
Basically I didn't hesitate to put these sneakers to the test. If I was going to keep hiking with them and taking on the toughest mud runs (obstacle races), I needed to know this was the shoe that would get me through them.
Updated: Tested the shoes out in winter/fall environment while hiking:
Recently I did another hike on the same trail but only in the fall season. Lucky for us, there was also snow, but in the above picture what I did was dash through a slippery trail. The picture above is a little blurry in areas because I was literally running downhill (I do not recommend you do this unless you have good balance) WHILE holding onto 2 GoPro cameras!
Though my shoes did get dirty, they washed easily and I don't recall having any slips. You just CANNOT do this with regular sneakers/trail running shoes.
How did the Salomon perform? 
In every area I ran through with these sneakers (including mud runs as you'll read about below), they conquered them without any problem. No I mean it, literally: No problems.
No slips.
The places where I used to slip while wearing other shoes, I wasn't slipping anymore. The traction on these is amazing. They dig deep into the ground and dirt. I never once found myself losing balance because of the outersoles. 
A feeling of weightlessness.
At all times when I wore regular sneakers or water shoes, I would feel the ground underneath me especially when I would step on rocks. With these, I honestly didn't feel the obstacles beneath my feet. It almost felt like I was gliding across the ground at times.
Something different about the energy.
What I also noticed was that because I didn't have tiny, yet dangerous problems like slipping which used to constantly force me to exert energy to readjust and balance myself or the dis-balance from stepping in mixed level ground, I actually ended up having much more stamina left over throughout the hike and really felt like I was dashing, not really jogging through most of the areas. 
The hike which used to take me hours was now cut much more and I had more energy.
Any complaints? 
If there is one thing I found that could have been improved upon, it's that the Salomon is not well suited to crossing wet, large rocks, which for hikes is something you rarely come across unless you're aiming to cross any area with water.
On obstacle races, it also rarely happens and typically courses are designed to avoid that because of the danger of how slippery wet rocks can be.
Now small rocks like gravel, whether they are underwater or wet from rain, those aren't dangerous, but large ones, that's when it's going to get slippery. 
The problem with large wet rocks, besides the slipperiness is the fact that because there is no area for the traction to set in, it becomes very difficult to cross these places. 
I have honestly never heard of any types of sneakers that can conquer large wet rocks, but the Salomon is a bit better at helping you keep your balance vs all those other shoes.
The ONLY kind of footwear I've found that helps with large wet rocks is a regular water shoe, but with regards to hiking and everything else, water shoes suck. I did look for trail sneakers which had the same outersole material as the water shoes, but there are none available. Maybe it's because they aren't intended to be used for those kinds of obstacles and tear quickly?
Anyway, should you encounter wet large rocks, your best option is to avoid them. If you have no choice, proceed very slowly through these rocks and ensure you are using your hands for additional balance. 
Other than this issue, I found no problems with the Salamon Speedcross 3. I have also been on other websites and read reviews about this sneaker prior to buying it.
The only common issue I found was that people said that everything is great except the sole wore of quickly. However, I noticed many of these people were kind of contradicted in their own testimonials because they admitted to using this shoe on things it wasn't made for, namely…concrete. 
People, why would you want to wear a shoe like this on concrete when the soles are clearly designed for nature?

Pros:
The Salamon Speedcross 3 is just about perfect for any kind of hike. 

Where it's dirt, mud or other things, it conquers pretty much any obstacle nature will have.

Extremely comfortable to wear. 

The traction is crazy good.

Greatly increases safety all outdoor activities because there's less slips and more balance.

This shoe helps preserve your energy.

There are greater odds you'll finish your mud run/hike when wearing this.
Cons:
Don't use it for jogging on concrete unless you want your shoe to have a short life span. That literally is the kryptonite of the Salomon SpeedCross 3…
Try to avoid large rocks that are slippery or underwater with this or any kind of shoes other than water shoes.

If you do outdoor adventures, the Salomon Speedcross 3 will create a completely better & safer experience:
As I said before, I didn't realize how different wearing a good quality shoe like this one can help my improve my hike until I wore them. So many things changed that I was completed oblivious to before. 
These shoes are definitely coming with me on my next hike/mud run and I recommend you take them on yours too!
Outdoor trails and mud runs are basically the same, but without the artificial obstacles:
Just add walls, heavy lifting and a few other common obstacles to your trails and you have a mud run and since the Salomon Speedcross can beat any trail, it'll also beat any mud run too. 
And now for the main experience:

The same exact pair I wore for my hike, I took to a race I did: Tough Mudder. And frankly, all my predictions about how they would perform were right and then some.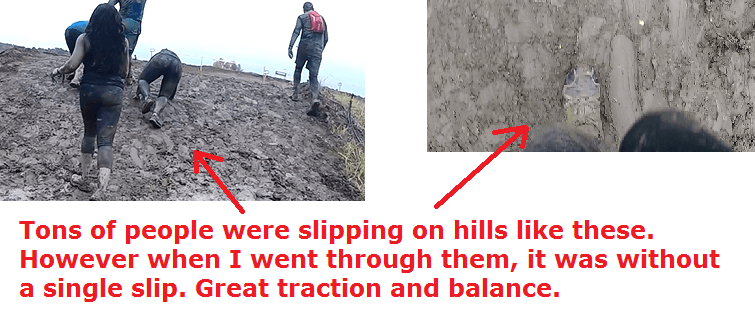 I ran through 10 miles of possibly the dirtiest race I've ever done. So here is what happened when these sneakers took on the challenge:
Additional pros I'm adding after my experience:
In every single obstacle that involved climbing slippery, dirty hills, they conquered them without a problem.
They didn't take in a lot of water or dirt, although they were very dirty at the end of the race.
I don't even recall slipping one with these on the dirt, while lots of people who wore various other shoes were slipping a lot. 
They cleaned very well after the race and surprisingly don't have that "smell" that shoes usually do after these kinds of adventures.
When in water or climbing up muddy walls, these shoes also performed extremely well.
The traction was amazing in this race. Basically the experience was the same as when I went hiking with them, except here I just ended up going into more water and deeper mud.
They look great right now, have no damage and I will be using them for the next mud run I do! 
Frankly, I'll say it again: wearing these kinds of shoes greatly reduces the risk of slipping, falling and/or injuring yourself.
How did these babies perform on the Spartan Beast? Well…
I honestly think they did even better on this race than on Tough Mudder and the irony is, THIS race was A LOT harder to do. 14 miles of hiking, jumping, and all sorts of dangerous things and these babies rocked the entire thing.
Not to mention they are washed, clean again and ready for the next run. It's amazing to me how resilient they are and how SAFE I feel wearing them. 
The conclusion on the Salomon Speed Cross 3:
These shoes proved to match their reputation easily and more. I honestly did not think they would perform this well on the race/s and be in such a great condition afterwards. 
I am curious to see how many races I can keep taking them on. At this point, it's at least several and that definitely vindicates the price for them. 
I absolutely love these shoes and with all the varieties (including MANY versions for women), I strongly recommend getting them for any outdoor plans you may have.